Cerebral Palsy: Treatment & Rehabilitation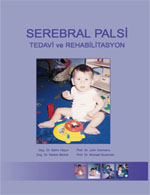 120 pages, 6" x 8", Four-Color, Turkish, 2000.
Available in PDF and Printed formats.
ISBN-13 #978-1-60189-013-9
Details
Dr. Nadire Berker and Dr. Selim Yalçin, members of HELP's Turkish Board, discuss a team treatment approach to Cerebral Palsy. They decided to satisfy this need for educational materials and brought together the latest information on the treatment of Cerebral Palsy in this book.
This book contains more than 250 color photographs and illustrations. It comes with a CD-ROM that contains all the text, graphics, and a 15-minute movie entitled "Living With Cerebral Palsy."
Download
For best use, please "Right-Click / Save-As" the following link.
A free PDF reader, such as Adobe Acrobat, is required to use HELP's titles.

View or Print (PDF) [Turkish]
ISBN-13 #978-1-60189-013-9
[3 MB]
Survey
For best use, please Normally Click the following link.


View (HTML) [English]
As thanks for the free download, while you wait, please help us out by filling out a short, voluntary, and confidential survey.
Printed

Please contact the authors about the availability of printed copies.
Nadire Berker [nadireftr@yahoo.com].
Selim Yalçin [selimort@yahoo.com].