The HELP Guide To Cerebral Palsy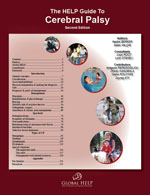 148 pages, 8.5" x 11", Four-Color, English, 2010.
Available in PDF and Printed formats.
ISBN-13 #978-1-60189-102-0
Details
News: now updated to a brand new 2nd Edition for 2010, Dr. Nadire Berker and Dr. Selim Yalçin, members of HELP's Turkish Board, have created an excellent publication providing an overview of the diagnosis and management of Cerebral Palsy. This publication is authoritative, comprehensive, extensively illustrated, colorful, and engaging. The need for this publication is enormous, as Cerebral Palsy is common throughout the world and no affordable management guide is currently available.
Download
For best use, please "Right-Click / Save-As" the following link.
A free PDF reader, such as Adobe Acrobat, is required to use HELP's titles.


View or Print (PDF) (2nd Edition) [English]
ISBN-13 #978-1-60189-102-0
[8 MB]
Survey
For best use, please Normally Click the following link.


View (HTML) [English]
As thanks for the free download, while you wait, please help us out by filling out a short, voluntary, and confidential survey.
Printed

A fresh batch of copies are now available for (U.S.) $30 each, which includes shipping. Please contact us for ordering details.